The Alliance
We're with you - Alleviating the burden of cancer together – it's what we're here to do.
The South Carolina Cancer Alliance is a multi-disciplinary network bringing cancer prevention practices and life-enhancing resources to everyone in the state. This collaborative of cancer experts, community organizations and dedicated volunteers develops, implements and funds the SC Cancer Plan: South Carolina's most effective roadmap to delivering greater access and equity in the fight against cancer. And we're realizing a measurable and meaningful difference to people at every crossroads in our state.
Alliance Structure - Built to drive change.
Founded in 2003, the Alliance is more than 800 members strong and led by a dedicated board of directors. Our leadership works with cancer experts statewide to develop the data-driven cancer plan's goals and objectives, then member volunteers design and implement strategies to rollout the plan in communities across the state. The Alliance funds the grassroots implementation of these cancer prevention and control activities through grants to participating organizations.
Our member volunteers work in groups to develop different areas of the cancer plan, focusing on breast, cervical, colorectal, prostate and lung cancers, as well as survivorship, policy and advocacy, and health equity.
History of SC Cancer Alliance - Two decades of success.
Every five years Alliance members work together to develop a new state cancer plan, dedicated to the prevention and early detection of cancer, as well as improving the treatment of those with the disease. The South Carolina Cancer Plan 2022-2026 is the state's fourth plan. Read more about the positive impact we've had in our 20-year cancer plan report.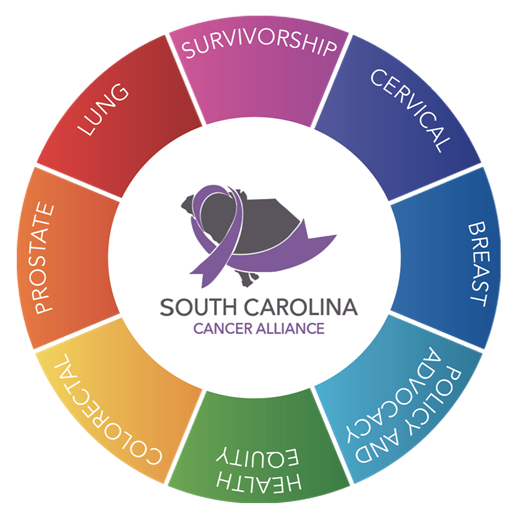 the
Cancer
Plan
Cancer prevention and control in South Carolina starts with us.

Help The Cause
The Alliance relies on active involvement by individuals and organizations statewide to assess priorities and to develop, implement, and evaluate the success of our projects. The Alliance leadership, which includes our Board of Directors and staff, provides a statewide infrastructure; however, only through the grassroots efforts of committed partners across the state will we achieve our goals. Join Us